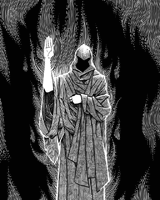 There are cases where a person exists, even after death has claimed them. However, those spirits that walk through the land usually have no way to communicate with the living ones, as the living can't speak with the dead. However, with this spell, speaking to these spirits for a duration of several hours indeed becomes possible and it can be a fascinating experience!
Ad blocker interference detected!
Wikia is a free-to-use site that makes money from advertising. We have a modified experience for viewers using ad blockers

Wikia is not accessible if you've made further modifications. Remove the custom ad blocker rule(s) and the page will load as expected.