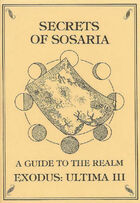 The Ultima III Clue Book: Secrets of Sosaria is 48 pages long and contains maps and hints for important quests in Ultima III. It originally retailed for USD$12.95 and was published in 1983. It was written by "Lord Robert," which is the alias of Robert Garriott, Richard Garriott's brother.
There was a re-printing of the book with Origin's new address in 1987.
External Links
Edit
Ad blocker interference detected!
Wikia is a free-to-use site that makes money from advertising. We have a modified experience for viewers using ad blockers

Wikia is not accessible if you've made further modifications. Remove the custom ad blocker rule(s) and the page will load as expected.