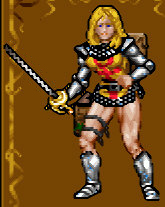 Not to be confused with the
Ophidian Sword
, the
Serpentine Sword
was found at
De Snel
's, along with the
Serpentine Dagger
. It is a specialty of the
Library of Scars
, but can also be found elsewhere on
Britannia
. The Ophidians of the
Serpent Isle
also made use of these swords, as they went along with their beliefs.
Although exotic-looking, the serpentine sword was equal to a normal sword, with a damage rating of "6."
The Serpentine Sword and the Ophidian Sword have exactly the same paperdoll art.
Ad blocker interference detected!
Wikia is a free-to-use site that makes money from advertising. We have a modified experience for viewers using ad blockers

Wikia is not accessible if you've made further modifications. Remove the custom ad blocker rule(s) and the page will load as expected.