Description
Edit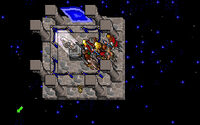 The Shrine of Spirituality rests on a floating dais in the Ethereal Void. As the sole method by which one arrives or departs is via moongate, the Shrine is adorned by a perennial exit gate leading back to the terrestrial realm.
Meditating at the shrine, the traveler has to chant the mantra, om, to find enlightenment in the ways of Spirituality.
Erected before the Quest of the Avatar, the Shrine itself has changed little throughout its history. During the time of Ultima VII, it notably served as a prison for the Time Lord at the hands of the Guardian. In Ultima Underworld II, it was one of his places of power and housed a Blackrock Gem.
The surroundings of the shrine in Ultima IX differed from the bespangled ambience of prior installments, instead resembling a vast, misty cavern. While here, the Avatar met the ghost of Dupre, as well as any other companions who were slain as Wyrmguard.
---
Ad blocker interference detected!
Wikia is a free-to-use site that makes money from advertising. We have a modified experience for viewers using ad blockers

Wikia is not accessible if you've made further modifications. Remove the custom ad blocker rule(s) and the page will load as expected.