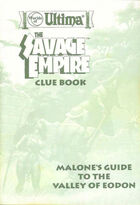 The Savage Empire Clue Book: Malone's Guide to the Valley of Eodon is 67 pages long and contains maps, hints, a history of the Valley and a detailed walkthrough of Savage Empire. It originally retailed for USD$12.95 and was published in 1990. It was written by Aaron Allston.
On page 3, "Jimmy Malone" gives the date of publication as October 1990.
While recounting the details of his time spent in Eodon, Malone makes it appear that he, not the Avatar, was the true hero of Savage Empire.
External Links
Edit
Ad blocker interference detected!
Wikia is a free-to-use site that makes money from advertising. We have a modified experience for viewers using ad blockers

Wikia is not accessible if you've made further modifications. Remove the custom ad blocker rule(s) and the page will load as expected.