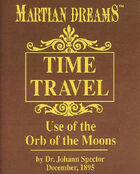 Time Travel
comes with
Martian Dreams
. It is 24 pages long. In real-life, Warren Spector has written the book while in-game his alter ego,
Dr. Spector
, has written it. It plays a role in the game, as it is the very book that Dr. Spector and the Avatar receive in the beginning.
The following topics are part of the book:
The thoughts of Dr. Spector and the story
The companions
The missing famous persons of the past
The book is written from Dr. Spector's perspective and holds many of his thoughts and useful information for the Avatar's journey.
External Links
Edit