Ad blocker interference detected!
Wikia is a free-to-use site that makes money from advertising. We have a modified experience for viewers using ad blockers

Wikia is not accessible if you've made further modifications. Remove the custom ad blocker rule(s) and the page will load as expected.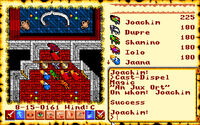 The
Tomb of Kings
is where the
gargoyles
for centuries have buried their deceased kings. It is located in the
Realm of the Gargoyles
, just south of the
Shrine of Singularity
.
However, visiting it without the caretakers is not advised, as the tomb is secured against looters with numerous force fields, magically locked doors, and countless beasts, even including the dreaded silver serpents.
The Tomb of Kings is not essential for finishing Ultima VI.