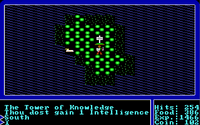 The
Tower of Knowledge
is a monument during the days of old
Sosaria
, located within the
Lands of Lord British
during the era of
Ultima I
.
Description
Edit
This tower was one of eight major sites in the realm that adventurers once quested to find, in search of power or at the behest of the numerous kings of the land. In particular, the Stranger would be sent to this location at the command of the King of the White Dragon of the Lands of Danger and Despair.
The sign marking the tower's location bore the strange inscription, reading "Turis - Scientia - Magnopere"[1]. Visitors to this site were subject to strange forces, capable of increasing their intellectual capacity for the traditional magics of wizardry.
After the death of Mondain, and the sundering of Sosaria, this tower, like many prominent landmarks, vanished with the passing of time. It is not known what became of it.
"Turis - Scientia - Magnopere" translates roughly to "Tower - Knowledge - Deeply" in Latin.[2]
References
Edit
↑ Translator's Note: This is assuming that "turis" is intended as "turris" (tower) and not as a genetive of "tus" (incense).
---