Triolo



Triolo, from Savage Empire

Species:
Human
Appearances
Triolo is a member of the Kurak Tribe and apprentice to Intanya, that tribe's shaman, in Savage Empire.
When Triolo first met the Avatar, he found the hero to be disturbingly familiar, but could not place him. When the Avatar asked him about Iolo, he admitted the memory was very familiar, but he could not place it. Triolo admitted he had no knowledge of how he came to Eodon, but that he had stumbled out of the jungle and had been adopted by the Kuraks.
He had even taken the role of apprentice to Intanya, and had gained the ability to summon certain spirits to help the Avatar's quest. He admitted that he had greatly admired Aiela's beauty, and had written many songs about her.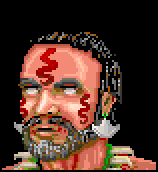 Triolo is meant to represent the Avatar's Companion, Iolo.
As apprentice to Intanya, Triolo is the only spellcaster in Savage Empire.
---
Ad blocker interference detected!
Wikia is a free-to-use site that makes money from advertising. We have a modified experience for viewers using ad blockers

Wikia is not accessible if you've made further modifications. Remove the custom ad blocker rule(s) and the page will load as expected.