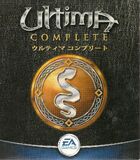 Ultima Complete is an Ultima compilation that was only released in Japan in 2001/2002, which contains all the main (numbered) Ultima games. It is the only release of the mainstream Ultima series without any involvement from Richard Garriott. It also is the last retail release of the games to date.
The box contents are as follows:
Ultima Collection CD - all games are in Japanese, except for Ultima VII.
Ultima IX CDs - includes the bugfixed version of Ultima IX.
Special manual for all the games
Paper maps for Ultima IX and Ultima Online
One of the cards and advertisement for the Ultima Generation card game
Ad blocker interference detected!
Wikia is a free-to-use site that makes money from advertising. We have a modified experience for viewers using ad blockers

Wikia is not accessible if you've made further modifications. Remove the custom ad blocker rule(s) and the page will load as expected.