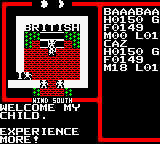 Ultima III for the Gameboy Color is a fan port of Ultima III created by Sven Carlberg.
The version is a complete and faithful port of the original Ultima III; although, there have been some modifications to the controls to accommodate the 2-button input of the Gameboy Color system. There is also a second full length game with additional game commands that is available after completing the original game. The second game is said to bridge the story between Ultima III and Ultima IV.
The latest version of the Gameboy rom was released in 2001.
External Links
Edit
Ad blocker interference detected!
Wikia is a free-to-use site that makes money from advertising. We have a modified experience for viewers using ad blockers

Wikia is not accessible if you've made further modifications. Remove the custom ad blocker rule(s) and the page will load as expected.