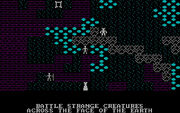 The Ultima II Upgrade Patch
adds EGA 16-color and other features to
Ultima II
.
This package also includes the most recent versions of Moonstone Dragon's U2 Galaxy Map patch (which also includes some fixes to dungeon files) and Micro Dragon's Speed Fix. Also, the dreaded rolling-over of the stats and hit points no longer occurs, and hotkeys (such as exit to DOS) have been added to the game.
The patch can be downloaded from exodus.voyd.net.
One problem when using this patch under DosBox is, that the u2cfg.exe needs DPMI to work, which DosBox doesn't provide. You can find a substitute here. In order to fix the problem, unpack the ZIP file and make sure that all the files are in the root directory of the game (no sub-folders).
Ad blocker interference detected!
Wikia is a free-to-use site that makes money from advertising. We have a modified experience for viewers using ad blockers

Wikia is not accessible if you've made further modifications. Remove the custom ad blocker rule(s) and the page will load as expected.