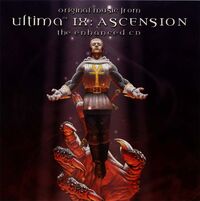 The
Ultima IX Soundtrack CD
was released by Electronic Arts in late 1999. This edition was called "enhanced" Soundtrack CD because it included 3 extra tracks thant the "regular" Soundtrack CD which was offered with the
Dragon Edition
of Ultima IX. Also, not all the music from the game is on the CD–for example some of the city music is missing, as well as some cutscenes.
The CD runs 41:06 and was sold in its complete form in stores. A slightly condensed form (with fewer tracks) was bundled with the Dragon Edition of Ultima IX.
Track List
Edit
1)Stones (chamber)
2)Britain (positive)
3)Introduction
4)Valoria Ships
5)Paws
6)Gargoyles
7)Minoc (negative)
8)Moongate
9)Terfin
10)Undead (intense)
11)Moonglow (negative)
12)Good vs. Evil
13)Moonglow (positive)
14)New Magencia
15)Rats & Spiders
16)Samhayne
17)Walking Theme
18)Humanoids
19)Pyros
20)Ambush
21)Good End Game
22)Stones (electro)
23)Ambrosia
24)Yew (positive)
Ad blocker interference detected!
Wikia is a free-to-use site that makes money from advertising. We have a modified experience for viewers using ad blockers

Wikia is not accessible if you've made further modifications. Remove the custom ad blocker rule(s) and the page will load as expected.