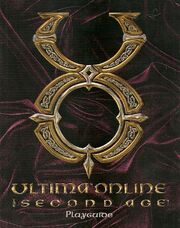 Ultima Online: The Second Age Playguide
comes with
Ultima Online: The Second Age.
It is 204 pages long. It extensively documents the world of
Ultima Online
around the time of the release of the
Second Age
.

The following topics are part of the book:
Getting In
Getting Started
Adventuring
Magic
Character Advancement
Luxuries
Interface Options
Chat
Spells and Potions
Animals
Monsters
Weapons
Armor
Magical Items
Maps of the Towns
EA suck maah balls !!
Ad blocker interference detected!
Wikia is a free-to-use site that makes money from advertising. We have a modified experience for viewers using ad blockers

Wikia is not accessible if you've made further modifications. Remove the custom ad blocker rule(s) and the page will load as expected.