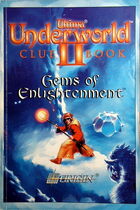 The Ultima Underworld II Clue Book: Gems of Enlightenment is 80 pages long and contains maps, a walkthrough narrated by various characters, and a thorough explanation of the game engine and mechanics of Ultima Underworld II. It originally retailed for USD$14.95 and was published in 1993. It was written by Austin Grossman.
Though it doesn't explicitly say so, this was the first hintbook published after Origin merged with Electronic Arts in 1992. The EA trademark can be found on page 2.
External Links
Edit
Ad blocker interference detected!
Wikia is a free-to-use site that makes money from advertising. We have a modified experience for viewers using ad blockers

Wikia is not accessible if you've made further modifications. Remove the custom ad blocker rule(s) and the page will load as expected.