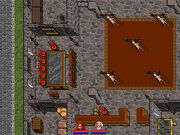 Ultima VII: The Feudal Lands is an ambitious remake and spin-off of Ultima VII and Ultima VII Part Two: Serpent Isle. It consists of an Exult mod which merges both games into one seamless narrative. It also adds a third continent, the Lands of the Feudal Lords, and a series of related quests.
In addition to the expanded narrative, the developers plan to reintroduce the Eight Virtues to the lands of Britannia. They also plan to overhaul the spellcasting system and to enable party members to wield spellbooks.
An alpha 0.1 version was released on February, 2009.
External Links
Edit