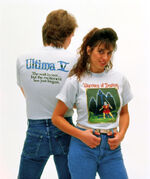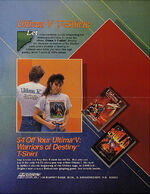 To promote Ultima V, Origin sold 100% cotton Ultima V T-shirts available in the sizes S, M, L and XL. On the front is written, "Warriors of Destiny," with the Ultima V cover art displayed underneath. On the back is written, "Ultima V: The wait is over... but the excitement has just begun."
Origin began to sell these shirts in the spring of 1989 at a price of US$8.95. However, there was also an offer made available (seen right) whereby purchasing Ultima I would reduce the price to $4.95.
Ad blocker interference detected!
Wikia is a free-to-use site that makes money from advertising. We have a modified experience for viewers using ad blockers

Wikia is not accessible if you've made further modifications. Remove the custom ad blocker rule(s) and the page will load as expected.