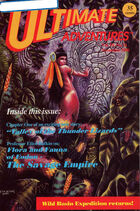 Ultimate Adventures Magazine is the Savage Empire game manual. It is 46 pages long, and it was written by Aaron Allston. The magazine lists the creators of the game as the magazine staff. Several of the articles appear to be written by game characters, such as the Avatar, Dr. Rafkin and Jimmy Malone.
The following topics are part of the book:
The story of the game
The tribes of Eodon
Weapons
The return of the Wild Basin expedition
The manual is written like a pulp magazine, similar to those of the early 20th century. It contains numerous articles based upon Eodon, and is written tongue-in-cheek. This is especially noticeable on the second-to-last page, where Aiela gets a "Avatar went to Savage Empire" T-shirt.
External links
Edit
---