Description
Edit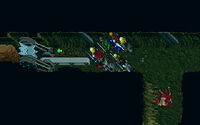 The
Vesper Mines
are the mines of the town
Vesper
, located at the southwest border of the
Drylands
in northeast
Britannia
. There isn't much to say concerning the mines, only that they are beside
Covetous
the second source for
Blackrock
in the time of
Ultima VII
.
Also in the time of Ultima VII, many Gargoyles make a living in these mines, arriving daily from Terfin. Some are exploited to work longer hours by feeding them Silver Serpent Venom.
Ad blocker interference detected!
Wikia is a free-to-use site that makes money from advertising. We have a modified experience for viewers using ad blockers

Wikia is not accessible if you've made further modifications. Remove the custom ad blocker rule(s) and the page will load as expected.