Ad blocker interference detected!
Wikia is a free-to-use site that makes money from advertising. We have a modified experience for viewers using ad blockers

Wikia is not accessible if you've made further modifications. Remove the custom ad blocker rule(s) and the page will load as expected.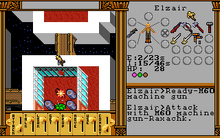 A multitude of items can be used as weapons in Martian Dreams; some originated on Earth, some on Mars, and some exist only in the Dream-World. These weapons are compiled here.
Note: Some Earthly items have Martian equivalents that are functionally identical; both images are shown below.
KEY (damage/range ratings obtained from Martian Dreams Clue Book)
Damage: L= Low, LM = Low Moderate, M = Moderate, HM = High Moderate, H = High
Range: N = Near, M = Midrange, F = Far, -- = Not a ranged weapon
Weapon
Damage
Range
Notes
Elephant gun
H
F
Uses elephant gun ammo
Belgian combine
HM
F
u)se to select r)ifle, s)hotgun, or c)ombo setting
Rifle
HM
F
Available from William Randolph Hearst in Olympus;


Uses rifle ammo

Heat raygun
M
M
Radium-powered; u)se to select r)ifle, s)hotgun, or c)ombo setting
Sabre
M
--
Available from William Randolph Hearst in Olympus;

You didn't do it!

Sledgehammer
M
--
Can work on rails, open geodes and locked trunks/chests
Axe
M
--
Open Martian pods
Machete
M
--
Scythe
M
--
Open Martian pods
Shotgun
M
N
Area effect
Freeze raygun
LM
M
Radium-powered; u)se to select r)ifle, s)hotgun, or c)ombo setting
Revolver
LM
M
Available from William Randolph Hearst in Olympus;

Uses pistol ammo

Derringer
LM
N
Uses pistol ammo
Hatchet
LM
--
Pick
LM
--
Can dig
Pitchfork
LM
--
Bow
LM
M
Uses arrows
Cultivator
LM
--
Pool cue
LM
--
Prybar
LM
--
Can open jammed hatch and nailed crates
Hammer
L
--
Can open geodes, nailed crates, and locked trunks/chests
Balpeen hammer
L
--
Can open geodes and locked trunks/chests
Hoe
L
--
Can dig
Knife
L
--
Rake
L
--
Saw
L
--
Can open Martian pods
Shovel
L
--
Can dig, carry/load ore and dirt
Sling
L
N
Uses sling stones

Special Weapons

M60 machine gun
H
F
Dream-World only; can kill Raxachk
Cupid's bow & arrows
--
F
Dream-World only; can charm creatures
Spraygun
--
F
Uses weedkiller; Extreme damage to plant life
Weed sprayer
--
F
Uses weedkiller; Amazing damage to plant life