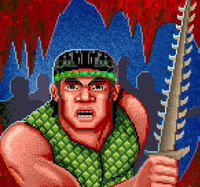 There are many items usable as weapons in Savage Empire. Most of these are products of the tribes of Eodon, but some are ancient Kotl devices, and others are from modern-day Earth. These weapons are compiled here.
(Note: Damage ratings obtained from Savage Empire Cluebook)
Ad blocker interference detected!
Wikia is a free-to-use site that makes money from advertising. We have a modified experience for viewers using ad blockers

Wikia is not accessible if you've made further modifications. Remove the custom ad blocker rule(s) and the page will load as expected.