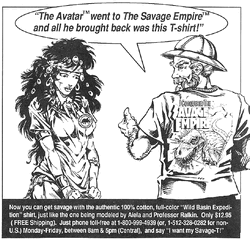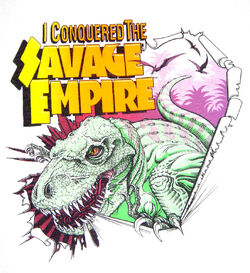 The Wild Basin Expedition T-shirt might at first look like a joke, since it is advertised in the Ultimate Adventures Magazine of Savage Empire in a rather humorous manner by Dr. Rafkin and Aiela, who looks really embarrassed to wear so much clothing (considering what she usually wears).
However, the T-shirt was real. It was a cotton T-shirt available in S, M, L, XL. The front read: "Wild Basin Expedition." The back reads: "I conquered the Savage Empire," together with a picture of a Tyranosaurus Rex. The original list price was $12.95, including shipping.
This item was advertised first in the 1990-91 catalog included with many copies of Ultima VI, which came out before Savage Empire, albeit not by much.