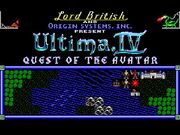 xu4 is an open source project focused on the playability of Ultima IV on modern systems. Their engine uses the original data files from the game. The engine's primary goal is to recreate the original Ultima IV with 100% accuracy while also providing many optional bonus features to improve the enjoyment of the game.
xu4 is still in the process of development, though it is mostly complete. It is currently in bug fixing mode. All features from the original game are supported and the number of bugs are extremely small. The only remaining glitches seem to be primarily in the dungeon display. The latest beta has a large number of bugs but the newest snapshots seems to have fixed a large number of these.
The last update to the site was on September, 2011, and no more news about its development have been published.
New features
Edit
xu4 features implemented so far that the original Ultima IV for IBM-PC didn't have:
In-game midi music and sound effects
Support for VGA and 16-bit graphics
High-quality antialiasing
Ultima V style spell mixing
Loads of cheat and gameplay options
The ability to return to the main menu
See also
Edit
External Links
Edit