Yolaru Tribesmen



Yolaru Tribesmen, from Savage Empire

Species:
Human
Appearances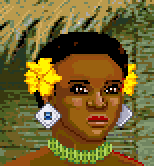 The
Yolaru Tribesmen
are the mainstay of the
Yolaru Tribe
in
Savage Empire.

The men and women of the Kurak tribe follow their leader, Apaton. They spoke at length about their tribe's enemies, the Myrmidex, claiming them to be strong, fierce, and evil, and had killed many of their tribe. They spoke poorly of the Disquiqui Tribe, believing them to be fools, and were knowledgeable of the Nahuatla Tribe.
They were extremely respectful of Dr. Rafkin, whom they had captured in a previous raid, and were impressed by his knowledge.
Ad blocker interference detected!
Wikia is a free-to-use site that makes money from advertising. We have a modified experience for viewers using ad blockers

Wikia is not accessible if you've made further modifications. Remove the custom ad blocker rule(s) and the page will load as expected.